Serving Cock Sandwich To The College Slut Jaz Scott Nails
2K
Serving Cock Sandwich To The College Slut Jaz Scott Nails
A couple of sandwich shop employees are complaining about the lack of college girls coming in to get subs when sexy Jaz walks in. Their jaws drop when they see her bend over to check out the goods, exposing her juicy ass and pussy. She tells them she wants a footlong … With extra meatballs. When one of the workers goes to the back, Jaz flashes Scott, who gets so distracted by her perfect round tits that he can barely put her order together! When he finally does she dumps it on the ground and tells him what footlong she actually wanted … Scott's huge boner! Jaz gives him a BJ behind the counter and fucks Scott all over the shop until the other worker busts them. Jaz, pissed at him for interrupting, sprays the worker with mustard and keeps banging Scott until another customer enters. Before she can order, Jaz pops up and tells Scott to keep fucking her and the shocked customer runs for the hills! They get back to intense fucking until Scott shoots a massive load down Jaz's face and all over her tits! They're busted again by the other worker, who's pissed at the mess Scott and Jaz made, but they bail to leave him to it, with Scott quitting on the spot for good measure!
Firefighter Angelas White Hot Squirting Fuckfest Angela White Zac Wild full video
Impregnation Vacation Part 1 Cali Carter Van Wylde Morgan MacGabhamm full video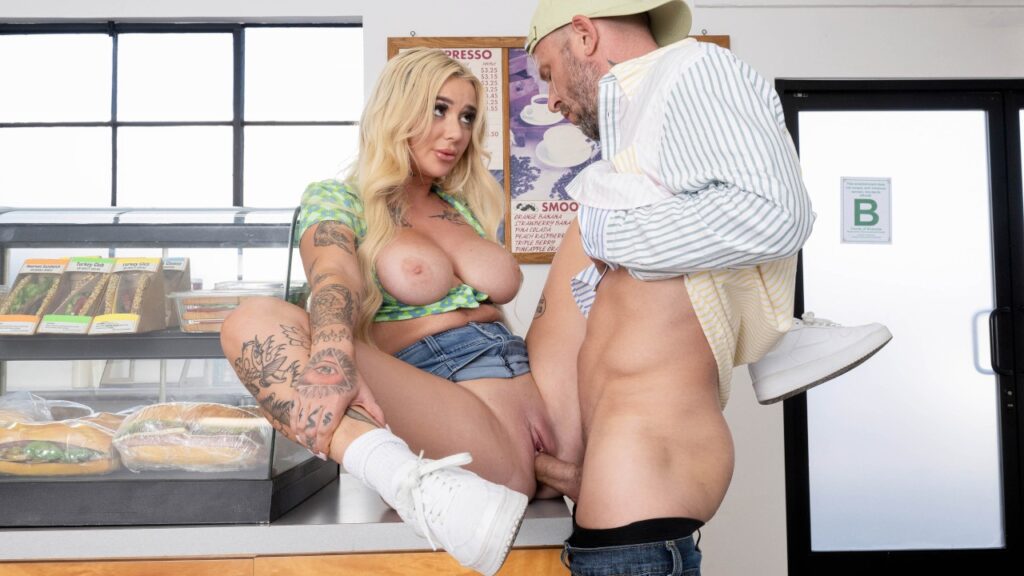 Serving Cock Sandwich To The College Slut, Jaz, Scott Nails
Up and coming pornstar Jaz is a sexy blonde babe with a passion for making men cum! The inked-up beauty has a tattoo under her ass cheek that says "Eat More Pussy," and nothing gets the big-boobed nymph in the mood to fuck like a hot guy lapping up her juices! Check out busty Jaz's mouthwatering curves and delicious bubble butt in the scenes below!
It's easy to see why this strapping stud calls himself Scott Nails: whether he's nailing two-by-fours on a construction site or busty broads on screen, Scott always does a bang-up job. The former owner of a construction company, this hardworking hunk is no stranger to getting his hands dirty. And there's nothing like a pair of big, rough hands to get a petite and pervy starlet going! After his company went under during the 2000 stock market crash, Scott was looking to change career paths in a big way, and knew just what he wanted to get into: the porn industry. Lucky for him, his then-girlfriend had recently invited him to do a boy-girl shoot with her, and he'd impressed the director so much that breaking into the biz was a cinch! Incredibly strong-willed with a mighty dick to match, Scott's rugged good looks, penchant for playing rough, and no-bullshit attitude have made him a favorite amongst pervy viewers and porn princesses alike. There's just something about the strong and silent type that women can't resist, and adult film fans love watching them go wild for him! So for a gifted cocksman who's truly tough as nails, treat yourself to Scott Nails' super hot sex scenes today.